PARAKLETOS MINISTRIES INTERNATIONAL
2nd Cor: 13:8 "For you can do nothing against the truth, but only for the truth which is the GOSPEL."
Are you satisfied with your spiritual life?.
Are you adequately preparing for Christ Jesus' second coming? matt.24:14.
Are you adequately evangelising your environment?.
Are you positively utilising your God given talents and spiritual gifts?.
Are you tired of the milk of God's words fit only for carnal men and spiritual babes?.
Do you wish to be fed with the solid food of God's words fit only for disciples? 1 cor.3:2.
Are you ready for fulfillment in christianity? John 10:10b.
Then, Parakletos Ministries International, P.M.I - an interdemoninational Christian missionary group that includes Good Samaritan Network, G.S.N-a non governmental and non profit Christian oriented organisation, the ministry that is discipleing the nations, is the place for you!
Parakletos is the Greek word translated Comforter/ Holy Spirit in John 14:26. His mission is to help , comfort and guide you through life's challenges while giving you the joy of God for every bitterness you have ever encountered. He leads believers on the path of righteousness for Christ' sake, teaches you to pray effectively, and reveals the truth about God to us while granting us effective revelation to counter error and mistakes.

And He is the General-Overseer of this ministry, ready to embrace and perfect you if you but heed His call today.
Be prepared for an encounter that will revolutionalise your Christian life as you fellowship with us because your only limits shall be whatever the Holy Spirit cannot give or do.
Join us in an adventure of a lifetime that will culminate in the new Earth and Heaven where we shall each receive our eternal portion of God's heritage.
MOTTO: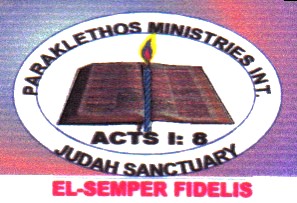 THE VISION:
"But when the Holy Spirit comes upon you, you will be filled with power, and you will be witnesses for me in Jerusalem, in all Judea and Samaria, and to the end of the earth" Acts. 1:8.
"May all Kings fall down before Him; may all nations serve Him! For God delivers the needy when they call; the poor and the helpless; He has pity on the weak and needy, He saves their lives from oppression and voilence because their lives are precious to Him" Psalm 72:11-14.

Our vision is leading people throughout the world to Christ Jesus by the gospel and it's deeds, by the power of demonstarted love in action; by power of miracles and wonders, and by the power of the Holy Spirit in readiness for Christ's Second coming and the white throne judgement. Rev.14:7.
GOLDEN PRAYER!
"Teach me Lord, what you want me to do and I will obey you faithfully. Teach me to serve you with a complete devotion. I will praise you with all my heart. Oh Lord, My God, I will proclaim your greatness forever.How great is your constant love for me; You have saved me from the grave itself.
Remember me O God, with the favor you have towards your people; Oh visit me with your salvation. That I may see the benefit of your chosen ones; that I may rejoice in the gladness of your nation, that I may glory with your inheritance; Amen."
Psalms 86:11-13; 106:4-5.
THE MISSION :
"Go and preach, the Kingdom of Heaven is near! Heal the sick, bring the dead back to life, heal those who suffer from dreaded skin diseases and drive out demons". Matt.10:7- 8.
Isaiah 58:6-7 "Remove the chains of oppression and the yoke of injustice; empower the oppressed with modern education and vocational skills rooted in Christian philosophy. Feed the hungry, house the homeless, help the needy, cloth the naked, care for orphans, widows and retired but poor senior citizens"

Our mission is to preaching, teaching, healing and rebuilding the body of Christ internationally through an unbiased presentation of the gospel. We are commissioned to expose believers to their Victory over sin and it's nature thus empowering them to live above Satanism, demonic and seducing spirits invading the church in these last days. Our objective is to help converts understand and appropraite all that God has given us to live successfully on earth consistent with righteousness through unveiling the mystery of Christ in us the hope of glory.
Below right is a cross section of crowd at one of our out door crusades!